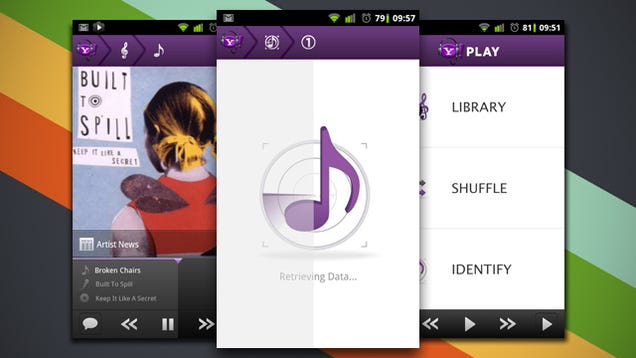 Yahoo Music for Android is normally not one of the first options an Android user considers when searching for an app that will give them access to good music. However, once you start using the app, you are likely to get hooked.
Play – The Yahoo Music App for your Galaxy
Play is an Android App and is a perfect blend of playlist creation and music identification. While it may sound new, it is a typical music player that you can use to play the songs that have been stored in your device. This app gives users the ability to select a song from a library of their choice. Once they do, the app creates a playlist based on the user's selection.
This app also comes with an identification feature that resembles services by Shazam, which can categorize individual songs. At the same time, it has a continuous mode meaning that when the mode is on, it is able to ID each song that plays.
A Look at Play
When you first look at Play, the purple UI will most likely be the first thing you notice. However, looking past the overbearing color will allow you to appreciate the beauty of the app. This app is fast and probably one of the fastest music playing apps you will ever come across. If there is album art that has been omitted from the selection, Play will take care of that by grabbing it automatically from the internet.
This app is also easy to use as it responds well to finger-touch. If you are listening to some music and then get bored, you can always keep busy with something else. Play gives you the option of reading information and updates about the artist you are listening to. This app is very accurate and also comes with a song identifying feature. This feature has extended listening options for identifying a number of songs at a go.
Subscription and Music Download
Subscribing to Play is optional. As such, if you first want to give it a test drive before deciding, you can do so. All you need to do is buy music via a la carte without subscribing. Doing so gives you the ability to download various songs and even albums. You can even have them burned to a CD.
Subscribing to the service gives you access to a plan that enables you to listen to your music of choice. The only catch is that you will have access to this music for as long as your subscription is valid.